2021 $ Value of Food Donated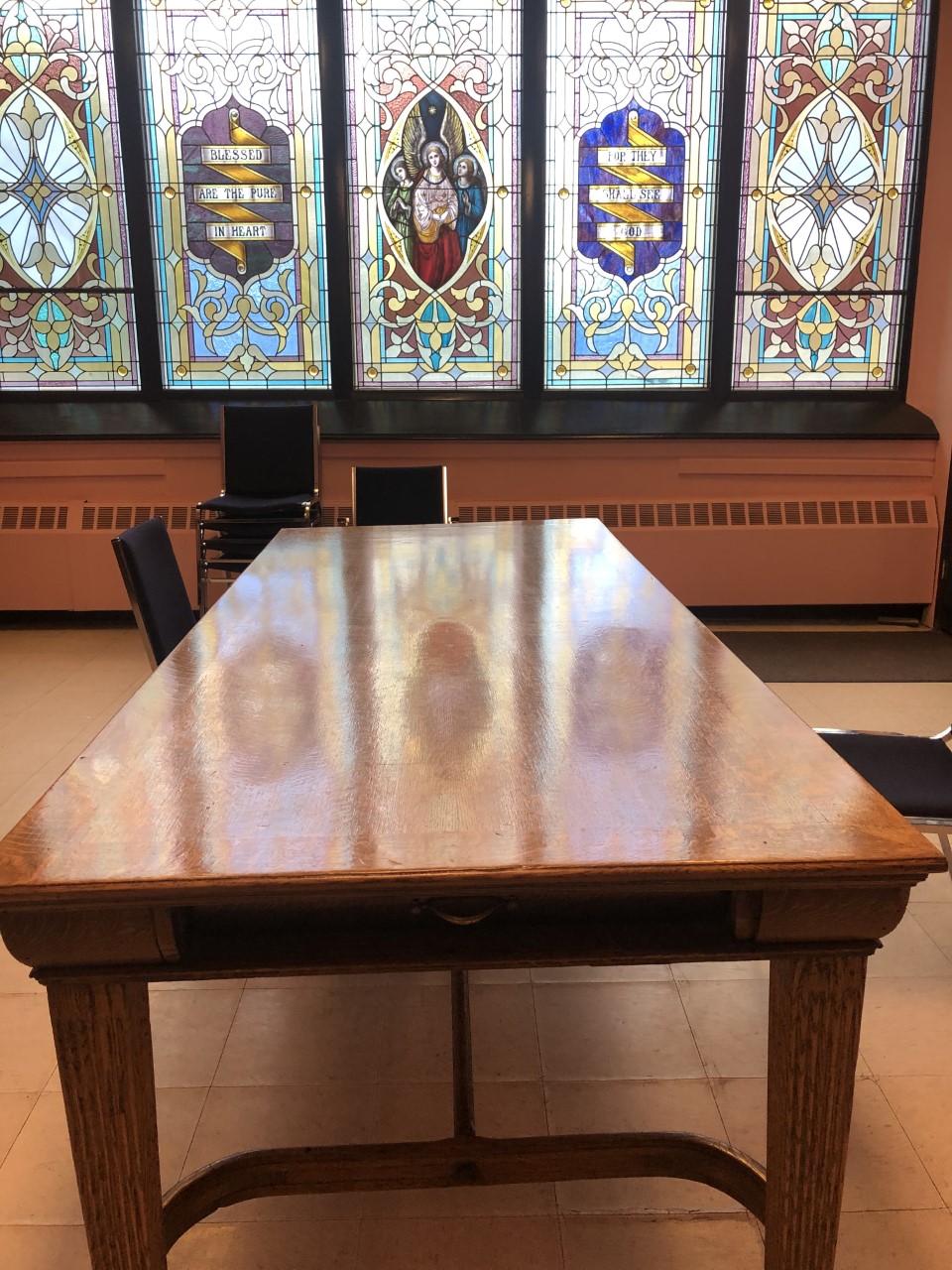 Our Start
In 1981 Oak Table began as a place where people could come in for a cup of coffee and conversation. It was seen as a way to reach out to the community and neighbourhood surrounding Augustine United Church, in Osborne Village. The Office Administrator welcomed the first guests. Those few visitors began growing in number, and as the needs of the guests became known, so did the need for a formal program.
A part-time staff was hired, and soon 20-30 people were coming each day. The Pheonix Room was home to the group, where coffee, snacks, conversation, information and resources were available. The solid oak table our guests first sat around to share their personal stories, gave rise to our name.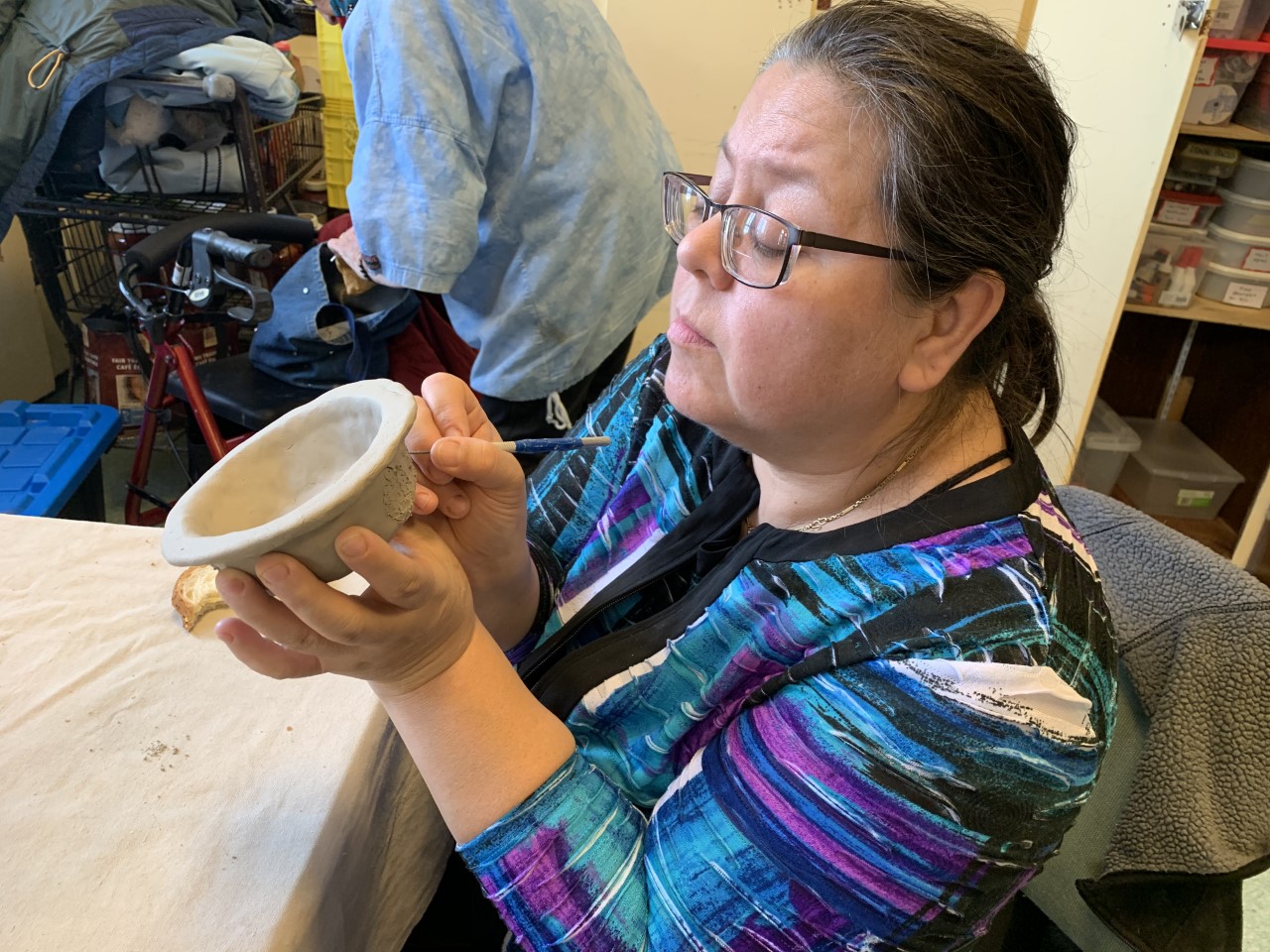 and then...
Numbers continued to rise, and as a result of an incident that required refurbishing of the stained glass windows in the Pheonix Room, the program moved to a space that would accommodate up to 45 people. Now adjacent to the kitchen, the snack was replaced with lunch, and the additional space allowed for some formal programs and more resources to be offered.  A formal art program, health information sessions, and access to a computer began the transition to what we are today.  The 45 people soon became 60-70 and the program expanded to include the Guild Hall allowing a capacity to accommodate 120 people.
Close to 40 years later, coffee and conversation remain a cornerstone of Oak Table's existence.  During that time, Oak Table moved from under the operation of Augustine United to securing it's own independent Board and Charitable Status.  In the fall of 2016, Oak Table became an Incorporated Charity.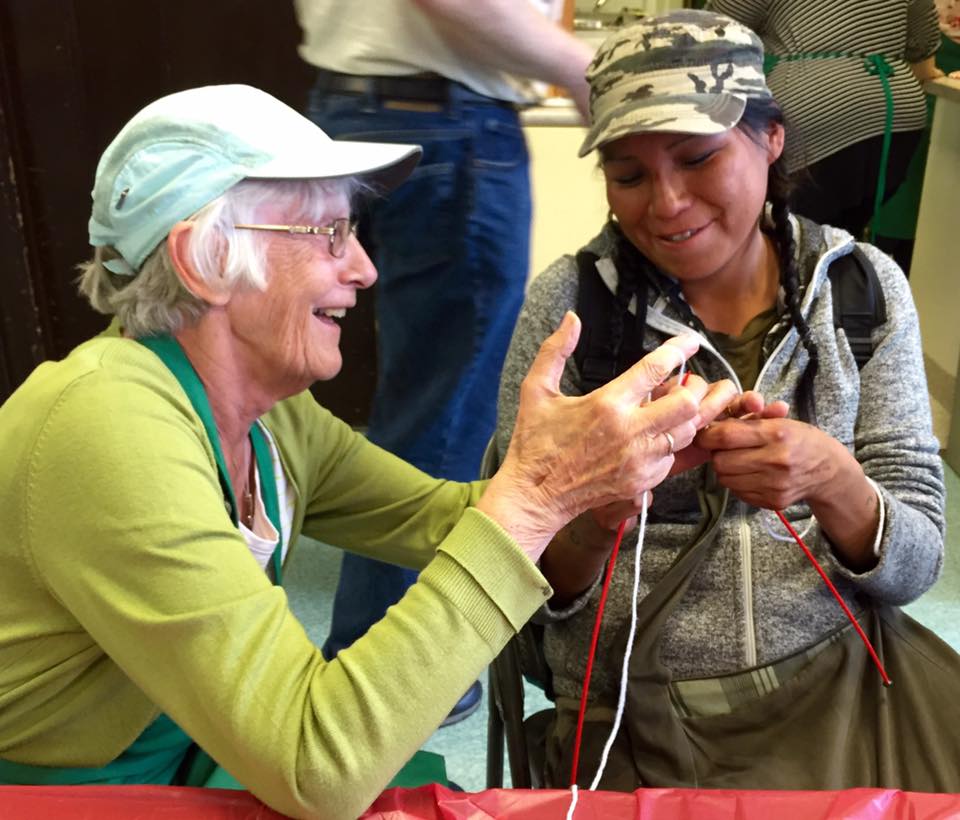 and now...
Today our guests come from many walks of life and include people who are homeless, income insecure, on social assistance, living with mental health issues, physical disabilities, or addictions. It includes seniors who feel isolated, looking for community and meaningful activities to participate in during the day. Our guests include infants, children, toddlers, youth, adults and seniors. Our 100+volunteers include individuals and families, school groups, people learning skills to get jobs; as well as workplaces wanting to give back to their community, practicum students, and professionals giving of their time. Some days we exceed 200 guests.
People come to Oak Table for food, to feel part of a community, to access items they need to make it through the day, and resources to meet emergent and long term needs. Our guests come because they need human contact and it gives them a reprieve from the isolation they feel. For some, Oak Table is one place they can count on acceptance.
At Oak Table we provide emergency clothing, hygiene items, shoes and boots, parkas and raincoats, hats and sunscreen. We offer access to computers, newspapers and telephones as well as a place to pick up phone messages and mail. 
We have a health care focus at Oak Table.  Our partnership with the team at Access Fort Garry provides our guests with accessible medical care on site.  They assist in getting our guests referrals and appointments, assessments and resources through their Allied Health Team.  This has provided a critical resource for our guests, who often fall through the cracks, and without a relationship are hesitant to, or unsure how to work their way through the Healthcare System. 
Our Art program has allowed people a healing place to get in touch with their creative side, whether it be a simple craft, or a complex piece of art, all are welcome to find what feels comfortable for them.  Our Indigenous Cultural Programmer works with guests wanting to explore their culture or stay connected with their roots, as well as educating non-Indigenous Individuals on the rich culture and ceremonies.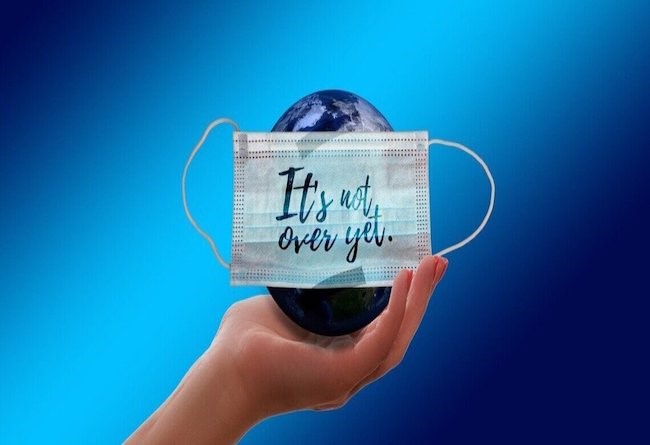 Our Covid-19 Response
Oak Table responded quickly to the changing landscape and went into Essential Services Mode  the week of March 16th, 2020.  
1) We immediately stopped hot food service in our kitchen and went to bag lunches.  We ordered and used paper products to serve our meals, as well as containers, coffee cups etc.  This was a  new expense for Oak Table as we typically use dishes for serving.
2) Our premises were limited to those without a home.  All other guests were welcome to pick up a take-out meal and food-kits.
3) Hygiene protocols were enhanced. Hand sanitizing stations were installed at the door and everyone entering the space began sanitizing their hands before entering.   Cleaning of touchable surfaces occurred at regular intervals throughout the day, and chairs, tables, and bathrooms were cleaned after each use.
3) Volunteers had hand sanitizer at their stations.  The drop-in was set-up with visual cues to ensure a 2 metre distance between guests and other guests.  Serving meals and coffee, and the handing out of bread was configured to ensure distancing protocols as well as "no touch" protocols were observed. Guests went through the line, one at a time.  Two lines were formed outside for guests getting take-out lunches, coffee, bread, and food kits and those who ate inside.
4) Oak Table became a Food Bank site for people in the neighbourhood.  We provided hundreds of food-kits to guests and larger servings (full pizzas).  To give our guests the opportunity to minimize the number of places they frequented, during Covid we provided extra meals for the weekend.
5)  Once the proper PPE was accessed we re-started our foot-care program. Our nurses are gowned, gloved, masked and wear full face visors.
6) By the end of June we provided 256 food hampers, and 3070 food bags in addition to the lunch guests were given.  We ensured guests received fruit, bread, vegetables, yogurt, protein bars in addition to their meal, beverage and dessert. 
7) At the end of August we started food preparation, and are now providing soup, casseroles, sandwiches etc. prepared in our kitchen, by our volunteers.  
106 of our regular volunteers took a step back during Covid due to their own, or a family members vulnerability.  We know many of them may not be able to return, which saddens us.  We are thankful to volunteers for increasing their shifts each week and to 54 new volunteers who came forward, allowing us to meet the needs of our guests.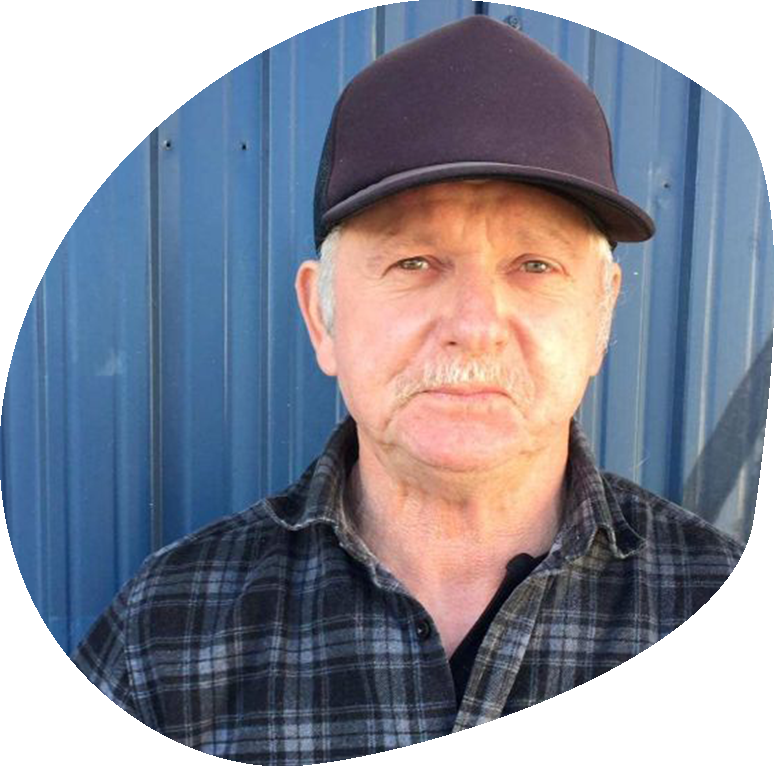 I don't know where I would be without Oak Table during the pandemic. So many places were closed, but Oak Table was here for people like me who are homeless. Thank you for everything you do. It really means a lot.
Between March 15 and July 31st, Oak Table distributed over 400 food kits to individuals and families, thanks to the generosity of our donors.